We're rated excellent by our customers on
Commercial Roof Racks
If you are looking for a roof rack for your commercial vehicle – look no further than Wez Morrell Towbars and Roof racks. Our expert team understand the difficulties of finding the right equipment for your vehicle and your needs and is on hand to offer expert advice. If you have any questions about our products, or what is the right fit for you, contact us today – we can't wait to help you.
Wez Morrell – Suppliers of Roof Racks UK
Here at Wez Morrell, we are one of the UK's best and most reliable suppliers of commercial roof racks for all your needs. We offer a wide range of roof racks, and roof bars to fit your vehicle and make your life easier. We supply parts for both domestic and commercial vehicles and can work with you to find the best option for your needs.
Types of roof rack
We offer a number of high-quality roof racks designed to suit your individual requirements. All of our roof racks are expertly manufactured and designed to last over time due to their excellent quality. We only sell parts that we would be happy to use ourselves, so rest assured everything that we sell is the best of the best.
Bar Options
We have a number of different bar options for commercial vehicles depending on the amount of support that you require for your items. Our options range from 2 bars up to 4 bars.
Heavy Duty Roof Racks
If you are expecting to carry heavier weights, you may need a heavy-duty roof rack to carry these separately. We offer heavier steel roof racks that are black powder coated for this task. These roof racks come with side rails and have a full-width roller to help move your items on and off the roof rack.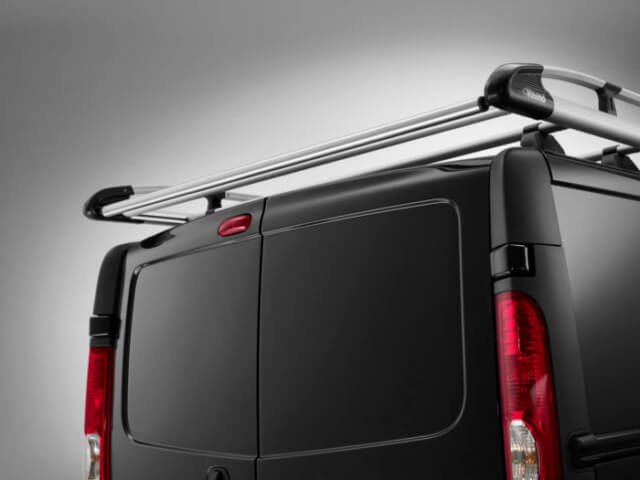 Lightweight Roof Racks
If you are looking for a lightweight roof rack that will keep your vehicle easy to maneuver, and more aerodynamic consider buying a roof rack with a lightweight aluminium frame. While these roof racks weigh less, they are still known for their strength and sturdiness.
Pipe Tube Racks
Pipe tubes are a great way to carry long items such as plumbing materials that are too long for your commercial vehicle. They are a popular choice for those in the construction trade and come in more than one length so you can find the one that's best for you. We offer pipe tube racks in both 2 and 3m lengths.
Roof bars
Roof bars can be added to domestic vehicles to help carry items on their roofs. They are smaller and easier to install than full roof racks and can be fitted on the majority of cars. Our team can help find the right fit for your vehicle.
Roof Rack Installation
Ensuring that your roof rack is secure on top of your vehicle is vitally important to ensure the safety of your vehicle and its passengers, as well as protecting what you are looking to transport. Cars and vans come in a number of different sizes and designs meaning that installing a roof rack can differ between vehicles. Some car brands already have open rails on the roof of their car at either side that have been fitted by the manufacturer, which can make fitting a roof rack a little simpler as you may not need additional feet for the roof rack to help it attach on to your car.
Generally, roof racks come as part of a set, with a rack plus the fixtures and fittings required to attach it safely to your vehicle, as well as instructions on how to do this. Fitting a roof rack can take time and precision, however, and you must be sure of what you are doing and double-check that the roof rack is secure before attaching any items to it.
If this all seems a little bit overwhelming, do not worry, as here at Wez Morrell, we can also provide roof rack installation so that you can be rest assured that your roof rack is secure and ready to use in no time. Our expert installers can fit it into your specific vehicle swiftly and efficiently, disposing of any packaging that you may have – all while providing service with a smile. To find out about our roof rack installation services, contact us today for information or a few no-obligation quote, it couldn't be easier to get you up and running, and on the road again in no time.
Frequently asked questions
What's the difference between a roof rack and roof bars?
While these two phrases can sometimes be used interchangeably, there is a difference between the two products. Roof bars, sometimes known as crossbars, are two long bars that go across your car roof. Roof racks, are sturdier, have more crossbars and come as a more modular design.
How will a roof rack affect your vehicle handling?
As you can imagine, adding a metal roof rack to your roof, no matter how lightweight it is can slightly affect the way that your vehicle drives. When you add items on top of this onto your roof rack, your car can become even heavier, changing how aerodynamic your car is and the way it moves through the air. This can make steering your car and turning corners slightly more difficult. Therefore, before driving a long distance, we recommended completing a test drive with a full roof rack to get used to the different ways of steering and maneuvering your vehicle.
Are roof racks safe?
Yes, roof racks are safe if you follow the guidelines from the manufacturer, and ensure that it is correctly installed to your vehicle. That is why we at Wez Morrell offer Roof Rack installation as part of our services, to give our customers peace of mind. Each individual roof rack will have a maximum weight for safety – which is usually between 34 and 115kg depending on the model. It is important that you stick to this weight limit for health and safety reasons.
What can you attach to roof racks?
Roof racks are designed to carry additional items that may be too big for the boot of your car, or too long to fit inside your vehicle at all. Some of the common items that are carried on roof racks include building supplies, bikes, surfboards, skis, kayaks or even just a large luggage store.